| | | |
| --- | --- | --- |
| | Welcome to our home page | |
Birkerød Pottemageri was founded in 1976.
We manufacture solely handmade earthenware and stoneware.

On the home page a selection of our production in earthenware as well as in stoneware is shown. Besides the items which are being presented we manufacture many other items and unique things. It is possible to see these at the workshop. In accordance with a placement of an order it is also possible for us to manufacture special items according to your wishes.

Birkerød Pottemageri exhibits 2 times a year at the Formland Fair in Herning stand K8200. At this stand it is possible to see a great deal of the production.

This home page is divided into two categories – earthenware and stoneware respectively.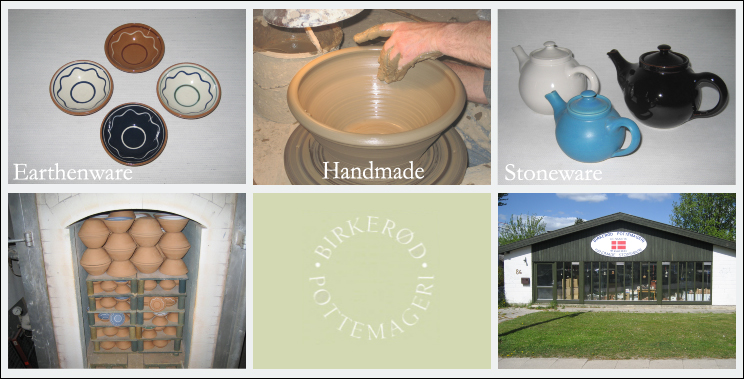 You are always welcome to pay the workshop in Birkerød a visit in order to se how the things are being manufactured. Besides that we should be pleased to refer you to the nearest dealer.
Birkerød Pottemageri • Tornevangsvej 86 • DK-3460 Birkerød • Tlf.: +45 45813001 • E-mail: henrik@bipm.dk • www.bipm.dk
Copyright 2012 - Birkerød Pottemageri ApS